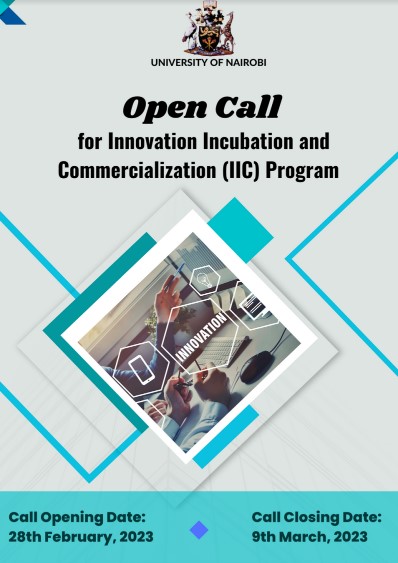 The Innovation Incubation Commercialization (IIC) program is a university of Nairobi
program implemented by Intellectual Property Management Office and C4DLab. This
program is for innovators with innovations that have potential for market
commercialization. In the program, experienced industry players will coach and mentor the
innovator teams in their quest to refine their innovations by translating them from ideas
and prototypes to minimum viable products and services. The innovator teams will also
learn how to prepare value propositions – using business models and cases – leading to
viable startups that can graduate to acceleration. Finally, the innovators will be connected
to investors and entrepreneurs that are able to fund the scaling of the emergent business
venture.
The Pilot program will run for six months, during which time the selected applicants will
make themselves available for one-on-one meetings with experts upon request. The IIC
program will bring together the professional consortia to select and verify innovations'
uniqueness and potential, prove their business validity and support them in further
development.
Benefits
- Join a Network of Innovative Game-Changing Entrepreneurs.
- Access to finance- The innovators will receive some funding to support streamlining
operations, increasing efficiencies and creating businesses with a positive impact.
- Mentorship support- The innovators and the team will receive one-to-one support to
refine their business strategy, solve challenges and identify opportunities for
commercialization and go to market.
- Master classes – Expert-led sessions covering all scaling fundamentals – from business
model canvas, lean methodology to fundraising.
- Tools and resources to help the innovator advance at each stage of innovation
commercialization.
- Business development services – Tackling all aspects of the business from incorporation,
meeting regulatory requirements, management structure, governance structures,
staffing, operations, business plan development and implementation, market plan
development and implementation, financial management and accountability.
- Strategic Support – innovators will receive support in technology, marketing, and design,
as well as entrepreneurship, enabling them to overcome the greatest challenges they
face. Our marketers, developers, User Interface and User Experience designers will assist
in perfecting not only the product but also the branding.
- Access to networks – We have created a strong network of value chain partners willing to
adopt and integrate products offered by accelerated startups. Offering this access as
non-monetary investment is a key component of our program.
Industry events – Exclusive opportunities to take part in leading conferences and events.
- A space to work from. Use it full time or pop in every now and then.
- Receive Technical Support and Investment Facilitation.
- Receive support to expand the business to other geographies, products, or services.
- Winners will be part of an extensive network and introduced to various partners,
mentors, and service providers to help them achieve their expansion goals.
- They will also have access to an exclusive learning community where they can exchange
ideas with their cohort peers in the cohort and other Regional Innovation Hubs through
regular workshops and meetings.
- At the end of the mentorship period, the startups that meet criteria for funding will be
assisted to access venture funding for acceleration/scaling.

To be eligible :
1. The applicant must be a faculty member, staff or student of the University of Nairobi
(Grant holders and researchers with innovations are encouraged to apply).
2. The innovations must demonstrate:
  -  Contribution towards new/improved quality product, service or process.
  -  Potential for patenting (Having a registered IP is an added advantage)
3. Team of at least 3 members
4. Innovativeness, utilization of emerging technology, and Sustainability
5. Has a functional prototype or minimum viable product (added advantage)

Criteria for Evaluation
The innovations would generally be evaluated based on the following criteria :
-  Innovation - The solution should be innovative, and has a deep and novel technological
aspect.
-  Team & Skills - The innovation should have a solid team with diverse experience and
knowledge and gender balance.
-  Feasibility - The innovation will be assessed on its business model, value proposition,
competitiveness and scalability.
-  Clarity - The ideas should be presented and approached in a clear manner.
- Impact - The solution should have a socio-economic and environmental impact.
- Investment - The innovation should have a clear business and financial plan with
indicative sources of funds and key investment risks and trajectories.

CONTACTS:
P r o f . M a r y K i n o t i : + 2 5 4 7 2 9 7 3 1 1 7 5
D r . S amu e l R u h i u : + 2 5 4 7 2 7 7 9 1 2 1 2